A group of mercenaries is formed from Raven, Lucius, Wil and Mark. They go on a quest to find Priscilla and rescue her from Princess Guinivere in Bern. It's pretty random sometimes... Who knows what will happen as they journey through Etruria?! Well, Mandi knows, but she won't tell!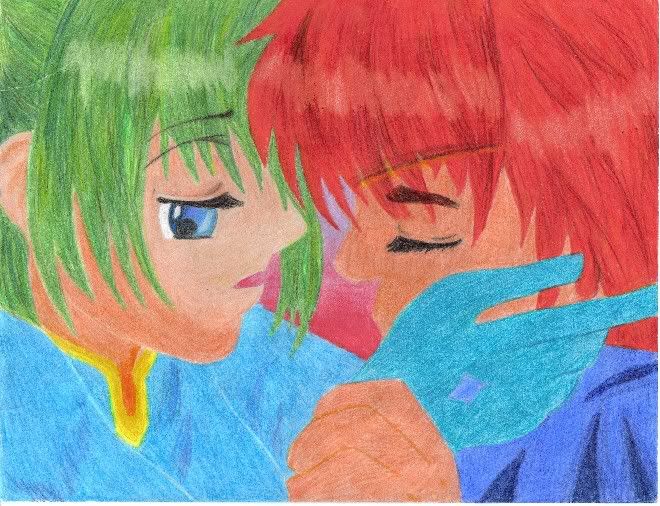 And now, the characters!
---

Raven/Raymond The Mercenary *Age 19 "Words are Underrated" *Sibling: Priscilla. Although he doesn't like to admit it, he loves her very much! *Besides Priscilla, Lucius is the only bit of family he has left When Raven was young, House Ostia ambushed House Cornwell, where he lived. They killed his parents, and Priscilla was taken away. It was of monetary matters. Since then, Raven has had a hatred towards House Ostia.... And he plans on bringing revenge! Raven and Lucius have always been great friends, since Lucius became a part of House Cornwell. ...

Lucius The monk *Yes, he is a male... *When Lucius was young, he was very sickly... His bishop told him that he had a sickness of the soul. He occasionally gets sick. *He was often teased as a young child for his pretty, feminine look *He is a calming soul, who has devoted himself to Saint Elimine, the God of Light *Thinks of Raymond as "A fine man" and they have always had a close relationship. *Born in Etruria When Lucius was three, a thief broke into their house and killed his father. His mother felt ill after his father died, and the only artifact Lucius has of his father is the dagger the thief left behind. His father was also a mercenary. Renault was the thief that killed Lucius' father. Lucius then grew up in an orphanage. One particular teacher was very cruel to him. ...

Mark The Tactician *Loves to be in control *Known for his tactical genius *Very cynical at times *Mark's personality often clashes with Raven's personality, so they often argue about what they are going to do *Chapter one makes reference to FE7, where they just 'stumble' upon a tactician lying unconscious... A few weeks before the begining of the Prologue, Mark found Priscilla and Lowen. Priscilla got kidnapped that night, while they were sleeping, and somehow got traded to Princess Guinivere from the bandit that took her. Mark and Lowen awoke to having no Priscilla around anywhere. So the took off in different ways to search for her. A week later, Mark ran into Karel, and he attacked Mark, leaving him unconscious... Then one day, what an odd coincidence, but Raven and Lucius find Mark and heal him. The quest begins~ ...
Wil The archer *17 years old *Born in Pherae *Wil had once thought about becoming a knight. Kent, the cavalier had said "There's someone he wants to please by becoming a knight, I can tell" about the subject... *Has a very happy-go-lucky nature. Very cheerful. *Likes to hoard away money *Always strives to become great with his training When Wil was young, he was best friends with Rebecca's brother, Dan. The village was in trouble, and needed some extra money. Dan and Wil ran away for a few weeks to see if they could help out in some way. But after the first week or so, Dan gave up and returned home. According to Rebecca, Dan never returned home. Five years ago, in Port Badon, a soldier was found by Fargus on the docks, lying unconscious. He rescued him, and the soldier had lost all memory of who he was or what he was doing. The soldier told Fargus that he thought his name was Dart. But he couldn't fully remember. Could Dart really be Dan? He looks just like him. And Wil always thought that Dan had returned home safely. ...
Lowen The Cavalier *Loves Priscilla! Okay, so maybe not truly in the game, but in this comic, they've been dating! How cute... *Even though he's on a horse, he's still got awful accuracy! ...

Priscilla The Troubadour *Like Lucius, she was often sick as a child too. *Very shy *Thinks that Lucius has such a pretty face, and is jealous of him because he has known Raymond longer than she has. *Raymond's sister. She loves Raymond very much, and still remembers that dream she had where Raymond and her were walking, and she fell. He came back and tried to stop her from crying while he carried her back home. Priscilla is originally from House Cornwell, like Raven is. After the attack to their parents, she was sent to live with the count of Caerleon when she was six. She lived with him, and did not see Raven for over ten years. ...

Karel The evil swordmaster *A very cold, uncaring person *Sibling: Karla. He would kill anyone. Including his sister. But something stops him from killing her. Perhaps is is just her beautiful swordplay that stops him from hurting her. *He is always on the lookout for someone to be his equal to fight with, and wants to find the most formidable opponent. This has made him partially insane, and wants to have the most impressive power and swordplay the world has ever seen *He's technically insane. *Karel does not care for the servants of St. Elimine, and thinks of them as members of a cult. *Lives by the sword. *Had eight siblings, but they all died except for Karla. *Karel and Karla one day plan to meet up. On the scarlett plain. To have a battle to see which one is truly worth the title of 'best sword master' Our story begins with Karel finding Mark. He enjoys making accusations, and accuses Mark of giving Lyndis a bigger role in FE7 because he thinks Mark had a thing for Lyndis. He is very jealous, and when Mark tries to explain that it was not his fault that Lyn got a bigger role, he does not listen. Karel thinks that Mark is just talking nonsense when he brings up the fact that it was the creators of FE7 that decided Lyn would be the main character. Karel gets out of hand and strikes Mark with his blade. Karel is then satified with his 'kill' and goes to find more formidable opponents that will fight back so he can be as strong as possible. Little does he know, Mark survived the hit, and was only knocked unconscious. Karel moves on, and will probably turn up at the end of the adventure ... ...

Guinivere The Princess *Remember the princess from Bern?! The cute little one? She makes an appearance in my comic as well. Yes, she is the one who had a fox! That cute little fox that Zephiel, her brother found while hunting and gave it to her?! Remember that!? And then Her father, King Desmond, ordered the fox to be killed because he had a hatred for Zephiel?! Remember that?! Well... During this quest, Guinivere actually walked into the room where the guard was about to kill her fox. She watched him kill the fox, and has been scarred ever since. King Desmond tried to explain, but now she has a secret loathing for him because she knew the truth, and really loves her brother Zephiel. She is now older - the sprite from FE4, I belive, is used here. And she is ... *blush* a lesbian. Who would have known her watching her fox get killed would make her turn out that twisted? ...

Messenger *The messenger is a fellow who has appeared from time to time in the game to give out information about the upcoming battle. *It's strange how the messenger would know about the upcoming battle, but Chapter 21 gives one explanation. Other Characters: Bandits *Most of them are very hideous! *All of them are very stupid. *Bandits appear almost anywhere on a map. *The group of mercenaries often runs into bandits, but they are easy to defeat. The only other characters that appear in this comic are from FE8, (The sacred stones) which is a really good game too. I did a mini series on them, which takes place between chapter 12 and 13. Or, they are comic #15-27. This small series includes (I think) every character that had a role in the game. Besides the individual bandits/monsters/anyone who had a small role. Main characters mostly, and then a few others. ...
First of all, check out this picture I drew of Lyn and Eliwood... Isn't it cute?!